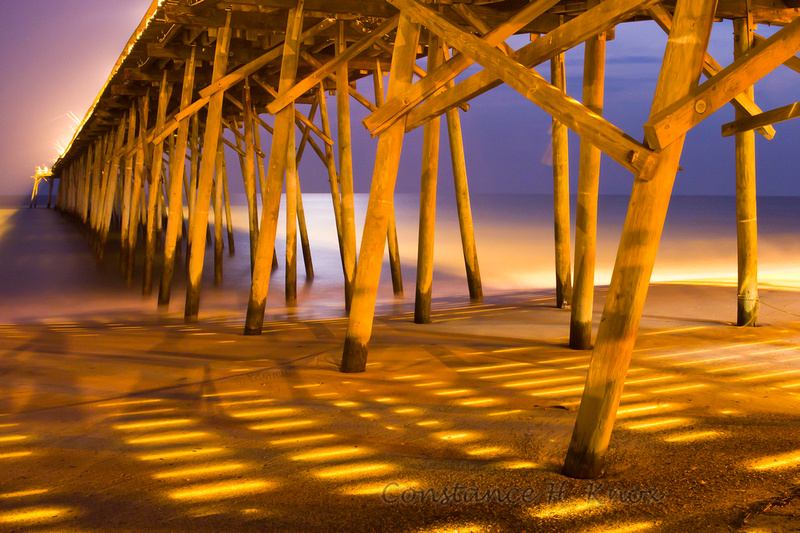 While the press made a big deal about the Super Moon last night it really was not a huge moon and the clouds hide the moonrise at the horizon. However, the fact that the moon was rising ten minutes before the sunset helped to keep enough light in the sky providing an interesting photo opportunity. The Super Moon is when the moon passes closer to the earth than normal causing it to appear bigger and brighter.
Despite the clouds, I came away with a great night out and a couple decent shots. This one is my favorite of the bunch.
I shot this in a much darker environment than pictured here, but the long exposure, the bright moon reflection and light from the pier above made for an interesting light. I love the way the variety of light made water shimmer, the pattern in the sand as well as a nice glow from above in the humid sky. It was so dark I had to use a flashlight to set the focus on the pilings under the pier.
What you can't see here is the distant flashes of lightening over my left shoulder as a storm approached and hundreds of people out and about enjoying the evening.
Several friends showed up with their cameras with a similar idea to try and capture a good shot of the Super Moon. While the moon is not in this shot (just the reflection) it was the Super Moon and the timing that got me out shooting pictures last night.
It was a Cinco de Mayo that felt like a warm summer night (even though it is still spring) and actully made for one of my favorite Saturday nights out in a long time. You can tell I don't get out much on a Saturday night anymore. I would much rather be at the beach with a camera on a warm night than hanging out in any bar or night club any day! It was a good time had by all.